Free Shipping on all orders ! . . . . . . . . . . .Patented and Made in USA . Extra 10% Special discount (use code "HOLIDAY" at checkout)
---
HOOKS RACK
"C" shaped hooks made from sturdy fiberglass re-enforced nylon (-30F to 180F) with rounded edges for storing Fishing Rods, Kayak Paddles, Brooms, and light Garden Tools on garage doors, walls, and ceiling.   
Patented and Made in the USA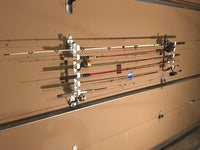 Easy to Install, Hang & Access!
The patent protected C shaped hooks design means no threading in from the side, unlike other racks, so it holds fishing rods the others don't, also less risk of damaging rod eyelets.
It is easy to hang the rack directly on STANDARD garage door hinges with NO TOOLS REQUIRED! (See Photo)
Also comes with mounting brackets to mount, horizontally or vertically, on walls and on the ceiling
100% Money Back Guarantee.
Always delivered to postal service the next business day.
All questions answered the same day.
John@fourthwallsolutions.com
Hooks Rack
ALL My VERIFIED REVIEWS From Amazon Purchasers up to 2019. (Confirm by checking my listing on Amazon)
     Izabella Wentz #1 New York Times Bestselling Author Hashimotos Protocol and Root Cause 
5.0 out of 5 stars
July 7, 2018 Verified Purchase.           
Amazing product with very simple installation!  Wow! I've been searching for a solution for husband's garage for his fishing rods and tools as there doesn't always seem to be enough space in the garage. These were incredibly easy to install ... pretty much two easy steps and work perfectly! You can tell a lot of work went into the development of the product, testing, and design. I'm likely going to buy a few more of these for the rest of my garage wall. You can't beat the price!             

 Smith                                     
5.0 out of 5 stars                               
 June 14, 2018  Verified Purchase             
The Fourth Wall Solutions Garage Door HOOKS RACK connected to my panels perfectly.  No messing around.
I used one set for my garden tools and another set for my fishing rods.
Because the hooks are open you can put in and out without having to slide them through hoops.  Very clever design.
I'm sure there is a lot of variations to garage doors in Florida. Especially with hurricane spars and supports.
Fourth Wall Solutions Garage Door HOOKS RACK connected to my panels perfectly.

Bort
5.0 out of 5 stars
September 8, 2018 Verified Purchase
I Love these hangers, I bought six. They save me space and work like a charm. I was troubled by the one negative review when I ordered but after using them myself I found hanging them to be easy and using them to be practical and helpful. I will be buying more in the near future and encourage folks who have no space left in the beach house garage to use em. Sturdy plastic so the do not rust in the salt air

Cynthia Prince
5.0 out of 5 stars
October 18, 2018 Verified Purchase
Great product!  This product is just what we needed.
Took less than 5 minutes to install and fits both 18 and 21 inch panels. Like it because it is lightweight and does not stick out too far. Since my husband has 15+ poles. We are ordering two more; one more for the garage door and one to mount flush on the ceiling which is hidden when door is opened to store less used poles. Product has freed up a lot of space in our garage.

Wendy Williams
5.0 out of 5 stars
 September 11, 2018 Verified Purchase
Perfect addition to my garage doors inside!! 
I don't know what Tana Dixon found negative about this product. She must not have installed it correctly. Absolutely the best invention ever made to store fishing poles in your garage. Quick, easy install. So glad the seller invented this item.. I have several items myself I want to get patented. Any help would be appreciated. Do not listen to Tana Dixon.

socks
5.0 out of 5 stars
 December 7, 2017 Verified Purchase
Beyond handy gadgets.  These hangers are fabulous, easy to install and accommodate all types of light tubular articles. Buying more now for our garages and friends too.

D Buchanan
5.0 out of 5 stars
 July 24, 2018 Verified Purchase
Easy install. works so far@!

Marlin Quillin
5.0 out of 5 stars
July 26, 2018 Verified Purchase
High Quality. Great product!
Took me maybe 5 mins. to install. High quantity product. I only wish they made a 8 hooks. I was able to double up two rods in one hook. I highly recommend this product!

Dan
5.0 out of 5 stars
August 2, 2018 Verified Purchase
Great product, easy to install.  Product received in a timely manner.
Unbelievably simple to install (no tools). Wish everything was this easy. Buying another one!

joe scherrman
5.0 out of 5 stars
November 9, 2018 Verified Purchase.
The real deal, its works great!
It cracks me up how simple and fantastic the Hook Rack works. Congrats on a great product.

kellee
5.0 out of 5 stars
October 19, 2018 Verified Purchase
Wow, what an excellent product!
I can't believe the ease of installation and the fine quality of this rack. I highly recommended this company and rack.

Clay
5.0 out of 5 stars
July 1, 2018 Verified Purchase
Easy to install, works great

Tana Dickson
1.0 out of 5 stars 
January 24, 2018 Verified Purchase
It is not a good value. Does not hang the way advertised. Contacted the seller and never heard anything back from them.
SELLER COMMENT: I tried multiple times to contact Ms. Dickson.  I even refunded her money without her asking.  She never responded at all to our emails.  Amazon records and my records show there was NEVER any emails from from this buyer. 
Don't you think this is Odd??